A Guide For Black To Blonde Transformations
Hearing a salon client say she recently used hair colour box dye is a cringe-worthy statement on its own, but then she says the one thing that keeps stylists up at night: "I want to go blonde!" Cue the heavy sigh. It's the ultimate transformation that requires lots of time, money and patience.
We have had alot of colour changes after lockdown and our team have spent years educating themselves in colouring knowledge and skills to be able to advise and apply your hair colour to get where you want to be without compromising your hair.
One stylist from the USA created a handy colour chart depicting the "stages of hair colour" your hair might go through when changing your hair colour from dark to light.
We think this is excellent and is a great reference tool to use – see below.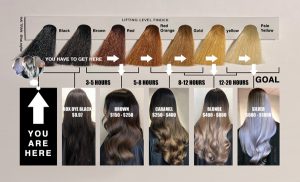 This photo is a great representation of the journey from brown to blonde in realistic stages. Whether you are doing an all over bleach, balayage or foil highlights it is normal to expect a middle stage which will reveal the warm tones in the hair before it can be taken to the lightest white or platinum blonde.
The main focus on making a successful colour change is about keeping your hair healthy and being realistic as to the stages you will need to go through to get to a realistic level of blonde achievable for your hair.
There has been a huge media following about Olpalex which we have in stock at the salon and use in most of our salon colours.  How it helps blondes, or people who want to be blonde, is that it allows us to lighten hair to as light as possible while keeping it healthy, one of the hazards of having your hair lightened at home or not by a trained professional colourist is that hair which is over processed and over bleached might snap off.
So even with a fantastic tool such as Olpalex it is not possible to go from dark brown to a clean bright blonde in one session – sorry!
What is more realistic is have 2 – 5 appointments over a few months to achieve the result in a way that keeps your hair still full of life and with minimal damage.
We have had some clients at the salon not happy with their hair colour after 1/2 colouring sessions, they feel their hair colour is orange or brassy or like dirty looking/one lady even referred to her hair colour as cigarette ash colour…..not where she wants to be.  This is because your hair will have to lighten up over time.  And depending on your original hair colour/the box colour/previous colours you have on your hair underneath that new colour will determine the colour your hair will be.
Adding in tones is still the same process.  To add lightness into your hair you will still need to bleach up first then to counteract the brassy/yellow/dirty tones you see we use a hair toner.  Hair toners are designed to neutralise these colours to get a softer colour result.  They are very low level depositing colour so will fade/rinse out of the hair i.e. not permanent.  As even though supermarket hair box dyes are saying they are semi permanent they are not and will cause build up on the hair over time.
So the essence of this news post is to get you all aware that you need to know that by wanting to change your hair colour you need to be prepared to be at various levels of colour that you may not like – respect the process.
For any hair consultations then please come in salon and speak to a stylist.