Shades of Grey
Grey hair is still very popular this season – why not enhance your natural colour?
Going grey can look fresh, young and fun.  By far, the easiest way to go grey is to get a short cut. The silver will naturally blend in with your hair color as your hair grows — if you even want to grow it out.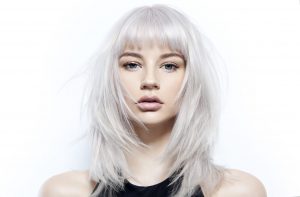 There's grey and then there's STEEL GREY – very chic and looks great on shorter hair or bob lengths.
Grey hair colour can make your hair look finer and fly-aways more noticable, so make sure you use a smoothing product like a serum to help with this.
For hair colour ideas please speak to your Blaze stylist – a colour patch test may be required 48hrs prior to any colour service.