Olaplex. The original bond builder.
Olaplex.  We are still obsessing over this awesome product line and heres a few reasons why you need it in your life!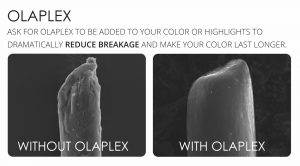 Olaplex is a bond multiplier with a patented active ingredient, Bis-Aminopropyl Diglycol Dimaleate.  It works on a molecular level to seek out broken bonds in the hair that are caused by chemical, thermal, and mechanical damage.  You can use Olaplex to restore compromised hair, or add it to another service to provide the ultimate breakage insurance.
The image above shows a hair shaft that has Olaplex on it and one that hasn't.
There are many products within the Olaplex range.  Here is a simple guide to what you need to know…
OLAPLEX NO.1 & 2

These are exclusively for hairdressing professionals to use and are used in salon as part of your technical services or as a professional stand alone treatment.  Starting at £10 for a "shot" of Olaplex in your colour or £25 for a stand alone treatment.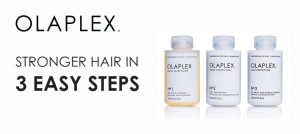 OLAPLEX NO.3
A once-a-week at home treatment, this little miracle replenishes shattered hair bonds in between your salon or styling sessions, so you can carry on maintaining your favourite hair colour and style without the worry of damage.  This is £26.00 for a 100ml
OLAPLEX 4 & 5
OLAPLEX NO.4 is your SHAMPOO – Repair bonds while gently cleansing all types of hair. Impart moisture, strength, and manageability with every wash £26.00 for 250ml
OLAPLEX NO.5 is your CONDITIONER – Restores, repairs, and hydrates without adding excess weight. Eliminates damaged frizz for strong, healthy, shiny hair and this is also £26.00 for 250ml
OLAPLEX NO.6
This is a leave in conditioner which helps to prevent frizz and flyaways for up to 72 hours.  OLAPLEX Number 6 hydrates and protects hair of all hair types, including coloured and chemically treated hair. It strengthens and moisturises hair as well as speeds up blow dry times resulting in hair feeling smooth and silky. Apply a tiny amount of the product into damp or dry hair focusing on putting it on your mid-length to ends £26.00 for 100ml
All of the Blaze stylists are trained in the Olaplex system and enjoy the benefits of working with it.  If you require any more information about how amazing this range is then please do speak to one of the team.